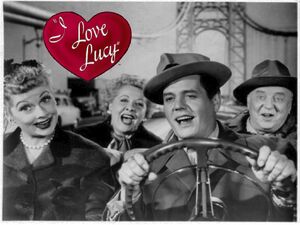 Welcome to the "I Love Lucy" Wiki
Welcome to I Love Lucy Wiki!!!
We are currently editing over 352 articles, and you can help!!!
Community Portal | About this wiki | New pages | Categories | Wiki tutorial | Help pages
Welcome to the I Love Lucy, a wiki devoted to the now classic 1950's CBS-TV comedy series which was co-produced by series co-star Desi Arnaz, Jess Oppenheimer, Al Simon and Jack Aldworth. The show would make TV icons out of series co-stars Lucille Ball and Vivian Vance, who would go on to co-star in 2 more highly popular long-running CBS-TV programs, The Lucy Show, as well as Here's Lucy.
The was also the first scripted television program to be shot on 35 mm film in front of a studio audience. In 2002, it ranked second on TV Guide's list of television's greatest shows, behind Seinfeld and ahead of The Honeymooners. In 2007, it was listed as one of Time magazine's "100 Best TV Shows of All-TIME." I Love Lucy remains hugely popular among new generations of TV sitcom fans, with an American audience of 40 million viewers each year.
The I Love Lucy wiki is a collaborative fan tribute website to the extremely popular American sitcom I Love Lucy, which aired on CBS from 1951-1957, whose story center's around the life and shenanigans of Lucy Ricardo and her singer/bandleader husband Ricky Ricardo (Desi Arnaz), along with their best friends and landlords Fred Mertz (William Frawley) and Ethel Mertz (Vivian Vance). During the second season, Lucy and Ricky have a son named Ricky Ricardo Jr. ("Little Ricky"), whose birth was timed to coincide with Ball's real-life delivery of her son, Desi Arnaz Jr.
During its six seasons, the show won a total of five Emmy Awards, which included a Best Actress Emmy for series co-star Lucille Ball, as wall as Best Supporting Actor/Actress awards for co-stars William Frawley and Vivian Vance, who appeared as Fred and Ethel Mertz on the series, The series, which would make major TV stars out of Ball, Vance, as well as Frawley (in the 1960s), was the most watched show in the United States in four of its six seasons, and was the first to end its run at the top of the Nielsen ratings (an accomplishment later matched by The Andy Griffith Show and Seinfeld). I Love Lucy, whose popularity has reached iconic status, is still syndicated in dozens of languages across the world!!!
Welcome, fans!! Welcome to this Wikia, we welcome any contributions! We invite you to log in and create a user name.
Articles We are constantly adding new articles to this new wikia. Any information which is valuable to this wikia site that you can contribute is greatly appreciated, with as many good reliable sources as you can find. You are welcome to browse what we have, create a new article (just click on one of the many red links you see), fix an existing article, or participate in one of our Community Projects to make the wiki a better information source.
To write a new I Love Lucy Wiki article, enter the page title in the box below.
<createbox> bgcolor=#e491bc </createbox>
Creating a user name is free and takes only a minute and it gives you greater anonymity if that is your wish. In addition, it is easier for other contributors to ask you questions and help you.
Of course, we hope you continue to make contributions, even if not logged in.
If you are new to Wikia or wikis in general, please visit the Community portal for an outline of some of the main parts of the site and links to pages that show you how to edit.
Discussion of any aspect of the site, and enquiries, can be made at the Forum or on the "discussion" page associated with each article. Please sign and date your contributions there, so that readers know "who to talk to" and whether your message is probably still of current interest.
Community content is available under
CC-BY-SA
unless otherwise noted.