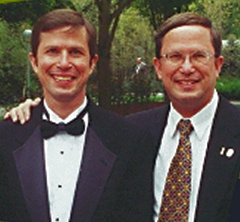 Joseph and Michael Mayer

Twin brothers Michael and Leo Mayer with "I Love Lucy" co-star Lucille Ball in 1955, during the series' fourth season.
Vital information
Birthname:
Joseph David Mayer and Michael Leo Mayer
Born:
June 26, 1952
Birthplace:
Los Angeles, California, U.S.
Family and Personal information
Character/Show information
Appeared on/
involved with:
I Love Lucy
Episodes appeared in:
32 episodes in Seasons 3-5
Appears as:
Ricky Ricardo, Jr.
Twin brother child actors Joseph A. (born Joseph David Mayer June 26, 1952) and Michael Mayer (born Michael Leo Mayer on June 26, 1952) played the role of Little Ricky in Seasons 3-5 of I Love Lucy.
Biography
Edit
Born and raised in Los Angeles, the boys were the sons of Max and Eva June Mayer. Their mother Eva appeared as an extra in the "Homecoming" episode of I Love Lucy, first broadcast on November 7, 1955. The brothers began appearing as Little Ricky while still infants on the series, the two replaced the twin infant brothers Richard and Ronald Lee Simmons in the Little Ricky character.Replaced by fellow child actor Richard Keith as Little Ricky in Season 5, the boys graduated from Crescenta Valley High School in 1970. Brother Joseph also later attended California Polytechnic, San Luis Obisbo. During college Joe took two years off to serve a mission in Tokyo, Japan for the LDS Church.
Joe was first married in 1974 after graduation where he and his family lived in Highland Park, Norco, and La Crescenta, California where he worked at the Times Mirror Press. In the fall of 1979 he moved his family to Oregon City, a suburb southeast of Portland, Oregon. Besides being actively involved in his church, he enjoys Boy Scouts, earned the Eagle Scout award, and has served as scoutmaster several times. He has also served in an Elders' Quorum, has been a counselor in a bishopric, and has been a stake clerk. Joe married again in 1995 to Ruth Adel Miller Salway, who along with Joe's 5 children from his first marriage brought an additional 5 children into the family. He currently works in computer-related assignments at Portland General Electric.
As a adult Michael made appearances in the films Die Banneling (1971) Fraud! (1974)Sell-A-Million (1975), Killer Force (1976), and Kill and Kill Again (1981). Brother Michael is a special education teacher at a high school in North Hollywood, California.
External links
Edit
Community content is available under
CC-BY-SA
unless otherwise noted.