Lucille Ball

Lucille Ball as Lucy Ricardo on the phone on "I Love Lucy"
Vital information
Born:
August 6, 1911
Birthplace:
Jamestown, New York, U.S.
Died
April 26, 1989
(aged 77)
Deathplace:
Los Angeles, California, U.S.
Occupation/
Career:
Actress/Entertainer/Producer
Years active:
1929–1989, her death
Website/URL:
http://www.lucilleball.com/
Family and Personal information
Spouse(s):
Desi Arnaz, 1940-1960
Gary Morton, 1961-1989 (her death)
Related to:
Lucie Arnaz (daughter)
Desi Arnaz, Jr. (son)
Character/Show information
Appeared on/
involved with:
I Love Lucy/The Lucy-Desi Comedy Hour
Episodes appeared in:
All in both series
Appears as:
Lucy Ricardo
Lucille Désirée Ball (August 6, 1911 – April 26, 1989) , is recognized by many fans as Lucy Ricardo the focal and star of the now classic I Love Lucy series and The Lucy-Desi Comedy Hour , The Lucy Show, and Here's Lucy.[1] One of the most popular and influential stars in the United States during her lifetime, she had one of Hollywood's longest and most venerable entertainment careers, especially on television.
Lucille's film career spanned the 1930s and 1940s, and she became a television star during the 1950s. She continued making films in the 1960s and 1970s. In 1962, Ball became the first woman to run a major television studio, Desilu Productions, which produced many successful and popular television series, such Star Trek: The Original Series, and The Andy Griffith Show.
Lucille was nominated for a Emmy Award thirteen times, and won four times. In 1977, Ball was among the first recipients of the Women in Film Crystal Award]. She was the recipient of the Golden Globe Cecil B. DeMille Award in 1979, the Lifetime Achievement Award from the Kennedy Center Honors in 1986, and the Governors Award from the Academy of Television Arts & Sciences in 1989.
In 1929, a young 18 year old Lucille landed work as a model and later began her performing career on Broadway using the stage name "Diane Belmont". She assumed many small movie roles in the 1930s as a contract player for RKO Radio Pictures. Ball was dubbed the "Queen of the Bs" (referring to her many roles in B-films). In 1951, Ball was instrumental in the creation of the television series I Love Lucy.
The show co-starred her then-husband, bandleader/entertainer and actor Desi Arnaz, as Ricky Ricardo, Vivian Vance as Ethel Mertz, and veteran character actor William Frawley cast as Fred Mertz. The Mertzes were the Ricardos' landlords and friends. The show ended in 1957 after 180 episodes.
Some minor adjustments were then made to the program's format: The running time of the show was lengthened from 30 minutes to 60 minutes (the first show ran 75 minutes), some new characters were added, the story arc was altered, and the show was renamed The Lucy-Desi Comedy Hour, which ran for three seasons (1957–1960) and 13 episodes.
Ball went on to star in two more successful television series:  The Lucy Show, which ran on CBS from 1962 to 1968 (156 episodes), and Here's Lucy which ran also on CBS-TV from 1968 to 1974 (144 episodes). Her last attempt at a television series was a 1986 show called Life with Lucy – which failed after 8 episodes aired, although 13 were produced.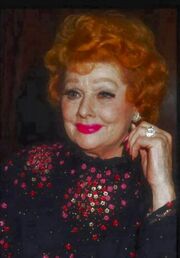 Marriages and Personal life
Edit
Lucille met and eloped with young Cuban bandleader/entertainer Desi Arnaz in 1940. The two had met while filming the Rodgers and Hart stage hit Too Many Girls. When they met again on the second day, the two connected immediately and eloped the same year. Although Arnaz was drafted into the Army in 1942, he ended up being classified for limited service due to a knee injury.[2] As a result, Arnaz stayed in Los Angeles, organizing and performing USO shows for wounded GIs being brought back from the Pacific.On July 17, 1951, after several failed attempts to bear children, and at almost 40 years old, Ball gave birth to their first child, Lucie Désirée Arnaz. A year and a half later, Ball gave birth to their second child, Desiderio Alberto "Desi" Arnaz IV, known as Desi Arnaz, Jr. Lucille and Desi divorced amicably on May 4, 1960.
Death and Legacy
Edit
On April 26, 1989, Ball died of a dissecting aortic aneurysm] at age 77. At the time of her death, she had been married to her second husband and business partner, standup comedian Gary Morton, for more than 27 years.
Her body was cremated and the ashes were initially interred in Forest Lawn – Hollywood Hills Cemetery in Los Angeles. In 2002, her children moved her remains to the Hunt family plot at Lake View Cemetery in Jamestown, New York, where her grandparents are buried. [3]
Tributes/Recognitions
Edit
On August 6, 2011, which would have been her 100th birthday, Google honored Ball with an interactive doodle on their homepage, which displayed six classic moments from I Love Lucy.[4] On the same day, a total of 915 Ball look-alikes converged on Jamestown to celebrate the birthday and set a new world record for such a gathering.[5]
Since 2009, a statue of Ball has been on display in Celoron, New York. Residents deemed that statue "scary" and not accurate, earning it the nickname "Scary Lucy".[6] On August 1, 2016, it was announced that a new statue of Ball would replace it. The new statue replaced the old one on August 6, 2016.[7] However, since the old statue became a local tourist attraction after receiving media attention, it was placed 75 yards from its original location so visitors could visit both statues.[8]
Portayals of Lucille Ball
Edit
In 2015, it was announced that Ball would be played by Cate Blanchett in an untitled biographical film, to be written by Aaron Sorkin.[9]
Ball was portrayed by Gillian Anderson, as her character Lucy Ricardo, in the American Gods episode "The Secret of Spoons" (2017).[10]
Ball was portrayed by Sarah Drew in I Love Lucy: A Funny Thing Happened on the Way to the Sitcom, a comedy about how Ball and her husband battled to get their sitcom on the air. It had its world premiere in Los Angeles on July 12, 2018, co-starring Oscar Nuñez as Desi Arnaz, and Seamus Dever as I Love Lucy creator-producer-head writer Jess Oppenheimer. The play, written by Jess Oppenheimer's son, Gregg Oppenheimer, was recorded in front of a live audience for nationwide public radio broadcast and online distribution.[11]
References
Edit
External links
Edit
Community content is available under
CC-BY-SA
unless otherwise noted.